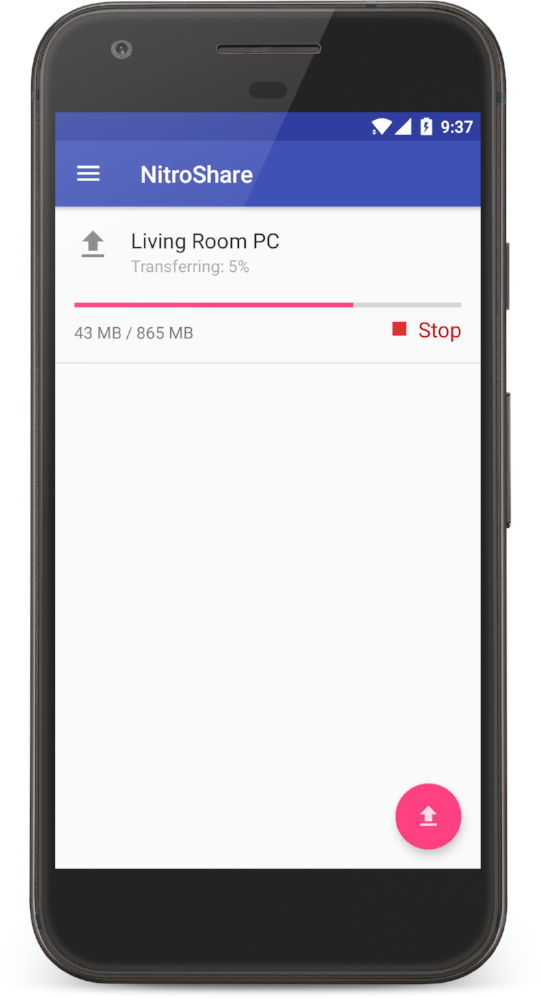 Mobile Application
Send and receive files with your Android phone.
1

Speed

The app will send and receive files as fast as possible on your WiFi network. NitroShare will take full advantage of 802.11ac wireless networks.

2

Compatibility

Works seamlessly with the latest version of the desktop client. Send files directly to any Windows, macOS, or Linux PC on your network.

3

Integration

The app adds itself to the share menu so that you can easily share images directly from your photo gallery or share documents directly from Google Drive.

4

Simplicity

Devices are automatically discovered with mDNS — no manual configuration required. Just launch the app and you're all set.
Install NitroShare
NitroShare can be installed directly from the Google Play Store.
The source code is also available on GitHub and released under the MIT license.
FAQ
What do I need to transfer files to a PC?
Each PC needs to have NitroShare 0.3.4+ installed. Installers and packages for Windows, macOS, and Linux are available.
Can I send and receive folders?
The app is capable of both sending and receiving folders and their contents. The built-in file explorer allows for selecting multiple folders when sending items.
Does this work on 3G or LTE?
At this time, transfers over cellular data connections are not supported. A WiFi connection is required for discovering other devices on the network.
Will this app run on my Android phone?
NitroShare for Android can be used with any phone running Android 4.1 (Jelly Bean) or newer.